Happy Valentine's Day from elderly Princess Jewel. The younger bunnies are doing some matchmaking. Baxter gets to meet the boys on their territory.
Let's meet our Bachelors...Twizzle and Greyton!
And here's the bachelorette-Miss Baxter. Bring on the boys!
You talk to her...no YOU talk to her...
"Look Greyton ..a GIRL!" "I know Twizzle... Be cool man!"
"Hey baby what's shakin' in your carrot patch?"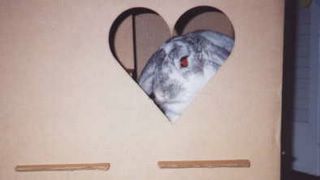 Happy Valentine's Day!