We decided to go to
Live8
. It was quite an amazing day.We caught a train near our house into Philly and found ourselves walking up the Ben Franklin Parkway along with hundreds of thousands of other people.
This really was a unique event in Philadelphia history.The weather was perfect,the crowd was in the mood to enjoy themselves, but paid attention to the messages the concerts around the world were trying to promote. The spirit for the show was upbeat, and although I saw one pack of drunk teens, 99% of everyone else we encountered at the concert were friendly and courteous.
As we made our way up the parkway we were barraged by flyers of people advertising their special causes. Among them- a flyer asking to start a marching band for world peace, help free tibet, and some invites to a free movie to introduce us to Scientology.Uh.. "Isn't that called War of the Worlds?" I said.
But after passing by several other people promoting their causes and told that Jesus loves me, Yahweh loves me, Buddha wants to be my friend, and could the four of us possibly get together for a bridge tournament...we saw these guys....
Great Googly Moogly! We're in Woodstock! It's Freedom Rock Man!
We came to about 21st street-and decided that any further up it was wall to wall people. We had a jumbo screen of the stage(which was ,if we hiked further was still over a mile away) and we were near some kick-ass speakers. I thought of my friend Clive, who writes about such gear for a living.
Look Clive! Big Speakers!
One big crowd.We are about halfway down the parkway near 21st street. Great sound and good view of video screens.The Art Museum is another mile down the road.
The concert started soon after we got there and we saw live from London Paul McCartney and U2 singing "Sgt. Pepper's Lonely Hearts Club Band". Bob Geldof welcomed America and Philly to the show and Will Smith emceed.He must have loved all the people from his hometown there.
The Black Eyed Peas tore into the first set and got everybody into the music. There was maybe a 3 second delay to the speakers and video screen, but the sound was tight. It was impossible not to enjoy the music all the day.
Bon Jovi came out and jumped into "Living on a Prayer" which I tried to audioblog a portion of to my fellow blogger
Dawn
. here he is on screen Dawn..start your drooling now...wish you were hanging out with us.
Bon Jovi on the big screen rockin'out!
A large portion of the crowd was singing along with Bon Jovi including me as my awful screeching heard upon the audioblog tape proves.
Destiny's Child appeared next , and Beyonce and um..the other two girls got a good reaction from the crowd.
Kanye West popped up after them and was very typical hip hop..A good time for us to go sit in the shade and drink lemonade.MEH.
Will Smith came on not as a presenter but as a performer, joined onstage by his old partner DJ Jazzy Jeff, he did "Summertime" and "Get Jiggy with It." Of course we got jiggy with it. I do a mean jiggy.
In honor of all his hometown fans he also had everyone do the rap to the opening. credits of Fresh Prince of Bel Air.
Always the Fresh Prince of Philly.
We got up a little closer- you can see the front of the Art Museum and the stage.I think the dude who's head is in front of the pic is Eddie from "Eddie and the Cruisers".
I got the chance to meet another Philly -area blogger
Addie
.She hung out with Mrs. Pratt and I for most of the day.A very cool new friend!
Another crowd shot. Dave Matthews was on, and was a highlight of the day.He didn't MUMBLE!
Best view of the stage for us today.
Toby Keith came on next. Yawn.What a good time to get something to eat.Along with some food we stayed hydrated all day with plenty of water.
The bathroom situation wasn't bad in our part of the parkway. There were plenty of Port-a-Pottys. Gross and disgusting by day's end, yes, but no long lines..at least in our part of the street.They were easy to find, just look for the big balloon...
We sat on a shady part of the lawn for a half hour and we talked blogs, jobs, pets. We heard Alicia Keys , but she did one song. Linkin Park was next with Jay Z and did like a half hour set. My head hurt by the time they got done.
Mrs. Pratt was concerned.Where was Def Leppard?? Her sole reason for agreeing to go! Well fortunately they came up next on the bill and Mrs. Pratt got permagrin while rocking out to Rock of ages and we all witnessed 1 million people singing "Pour Some
Sugar On Me".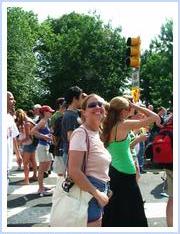 Mrs. Pratt rocking out to Def Leppard- photo courtesy of Addie.
I'm showing Addie how I do Audioblogger posts and annoy my readers with bad singing.
Having become chock full of defleppardy goodness, it was closing in on 5pm. We decided to part ways with Addie and head down to Penn's Landing: Philly's waterfront. The rest of the concert line-up was ok for us but we were both a little tired and knew that all those people leaving the show at once would be a commuter nightmare.So we missed out on Maroon 5, Sarah MacLachlan,Rob Thomas, Jars of Clay, Keith Urban, and Stevie Wonder.
On our way down the street, we noticed another 6 blocks of people that were standing behind us for the concert. We wandered over to Love Park on 15th street.It gave us a good perspective on how massive this concert was. Love Park is very much a skateboarding mecca althought the city has banned skateboarders from there.The Love sculpture is another famous Philly landmark.
The stage and Art Museum steps are at the far end. In between-one million people. Here's the Robert Indiana LOVE sculpture.
We wandered over to Penn's landing for awhile,Ruben Studdard was giving a free concert later that night but we passed. Onto Market Street to
Lucy's Hat Shop
for a quiet dinner after all the day's craziness.
Time to head back. Needless to say, this was when everybody decided to come home. Instead of going to one train station where the population of a small country would be gathered, we went to another locale, the wait was about an hour but it got us home.
A long day, but totally worth it. Good music, good company and a good cause.