It was too gorgeous a day to be indoors..It was perfect weather- like 80. We decided to go up north to Bucks County to one of our favorite towns, New Hope, Pennsylvania.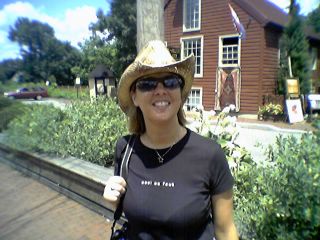 Mrs.Pratt ready for adventure.
New Hope is an ecelctic artsy community-pretty much the only alternative scene place outside of Philadlephia. Among its streets and alleys you can find a variety of unique restaurants and shops.
great building front on W. Mechanic st. in New Hope.
I know I sound like a convention bureau brochure but this town has always been fun to visit ever since I moved to Pennsylvania 13 years ago.
We ate lunch at
Martine's
, which is one of the oldest building in the town dating back to the 1700's. It also was the town's orignal library about a century ago.
Mrs. Pratt was happy they had
Stella Artios
, a Belgian beer she drank a lot of in Scotland.
Inside Martine's.
Shopping in New Hope usually starts at
Meow Meow
for us.It is THE store for any cat owner. We always pick up catnip for several cats we know.
We also passed by The
New Hope and Ivyland railroad
. You can take an old fashioned train ride through the countryside.
The locomotive about to hook up with cars for another ride.
It was such a gorgeous day we decided to cross the Delaware River and walk over the bridge to Lambertville,New Jersey. Lambertville is the more staid community.It's full of antique shops and pretty much frightfully dull.
Walking back over to New Hope we dug the sculptures around town. This one was my favorite.
Towards the town center is the
Bucks County Playhouse
. Founded by Moss Hart in the 1930's it still does quality stage productions today. Curently Eddie Mekka(Carmine from Laverne and Shirley) is starring in Pirates of Penzance. Yes...you read that correctly.Later this summer Joyce DeWitt(Three's Company) stars in Gypsy, Peter Scolari(Bosom Buddies) in My Fair Lady, and a Sinatra tribute show by Adrien Zmed(TJ HOOKER! GREASE 2!).
Mrs. Pratt and I hit our usual shopping stops,
Hot Plates
-fun to see the retro kitchen stuff there,
Farley's Book Shop
- where from floor to ceiling you never know what book you may find, Loves Saves the Day- the store has every pop culture item you can think of over the last 50 years, from vintage clothes, to lunchboxes, old toys. It's always fun to browse in there.
Cockamamies
, where Art deco furniture is their specialty. Superkind, is the best deadhead store in town, and always worth a dropby.We picked up a new Dancing Bear for the Prattmobile.
Greeting us at a shop door.
Last Spring saw New Hope getting hit by some floods and we noticed on this trip some of the basement level stores were closed and gone for good. Hopefully some new unique shops will set up there.There were hundreds of people out and about on the narrow streets. Even
Le Chateau Exotique
was doing a brisk business...um... we just window shopped.Really.
Mrs. Pratt caught me offguard resting after walking all day.We were ready to head home.