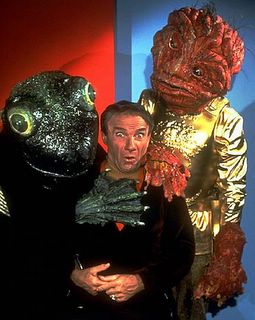 40 years ago today "
Lost In Space
" premiered on CBS. This show was the vision of director Irwin Allen, his tale of the Space Family Robinson remains a favorite of fans of sci-fi television.
Bill Mumy as young Will Robinson and the late Jonathan Harris as the nefarious Dr. Smith were some of the more memorable characters from 1960's television. Due to reluctant stowaway Dr. Smith, the Robinson family and pilot Maj. Don West of the Jupiter 2 never made it to its destination of Alpha Centauri, instead finding adventures "Lost in Space".
The Jupiter 2's Robot was always my favorite, and a small talking model of it sits on my desk at home. "My sensors indicates an intruder is present." "Warning..Danger Will Robinson!"And it's great to have all the episodes out on dvd now.
The theme was written by John Williams who later went on to compose many movie scores(Star Wars, Superman, E.T., Raiders of the Lost Ark to name a few.)
Not as cerebral as Star Trek, but still fun to revisit.Early episodes have a more serious science fiction tone but then due to competition from "Batman" on ABC , the show ventured into "camp" territory where the once dangerous Dr. Smith just appeared rather foolish turning into a space hippie in one episode and chased by a giant carrot in another.
There was talk of a reunion movie finally getting the Jupiter 2 back to Earth with the original cast a few years ago, but the death of Jonathan Harris squelched those plans.